The Honda Beat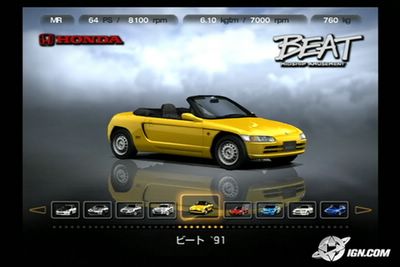 The Honda Beat
Strolling home after a delicious and very non-PC Kentucky Fried Chicken on Sunday evening, a tiny bright yellow sportscar in the carpark catches my eye.
Wow! It's a very rare Honda Beat, never offically sold in this country, but a car of such character that several brave or loony souls imported them from Japan and elsewhere in the 1990s. It's a tiny exquisite piece of design, with a mid-engined 3-cylinder engine of just 600 cc yet producing over 60 bhp.
This example was wonderful, grubby, obviously enjoyed and with a few untreated dents and scratches from its active life. There's something very miserable about sportscars that become ornaments, and spend their days being polished and dusted like some stuffy old 18th century chair, far too precious to actually sit in. Not this car - it had a wonderful slightly faded glamour that reminded me of the coolest car I've ever seen.
That was a once bright but now faded yellow 1969 Porsche 911 E coupe with great scabs of rust on both doors, scratched and dented all over from a lifetime in the Parisian traffic. I'd often see it half blocking the pavement opposite the little church of St Germain des Pres. Used, abused, but looking smug and leathal as ever...

Labels: Cars