Two Lane Blacktop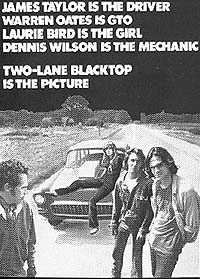 Over to a friend's flat to see an unobtainable DVD of the classic early 70s road movie "Two Lane Blacktop."
The best road movie of all time, it's about four drifters who find themselves racing across the South Western United States, mostly although not exclusively along Route 66.
What came across most was the wonderful clarity of film transferred to DVD, and director Monte Hellman's superb use of the entire frame; most of the important scenes occur on the edges, rather than the centre of the picture.
Very much a film of its time, the emphasis is on character and image, particularly the wonderful roadside landscapes. Like a Hopper painting, the loneliness and isolation of the characters in the foreground produces a background mood of melancholy romanticism.
There are two terrific performances to savour. One is by Warren Oates a very under-rated character actor of the 1970s. In this role he's middle age crisis personified, suffering some kind of identity crisis that manifests itself in pathological lying. Throughout the film we have nagging doubts about how such a dubious man acquired the shiny red brand new Pontiac GTO he drives.
A complete contrast is the haunting presence of Laurie Bird, who has the distinction of only being in three films, each of which has a cult following. The other two are Cockfighter (also starring Oates) and a small part in Annie Hall, as the girl with the P.P.L.
Despite all this art house stuff, there's something very realistic about the professionalism of the driver and the mechanic. Laid back and lazily cool, they earn their living by betting against other hot-rodders in ¼ mile drag races held on quiet public roads. Their approach is professional – before they challenge another car the mechanic carefully checks the opposition to ensure they avoid more powerful machinery. Their car, a really rough looking customised '55 Chevy saloon, is finished in blotchy grey primer – they keep the racing wheels and slick tyres in the back, along with the tools and the jack. There's something brilliantly calculated in the way this car looks like a shed, quite unlike a polished mass-produced flash of the liar's GTO.
Fav bit of dialogue:
"Small block?"
"Big block"
"396?"
"454."
You don't have to understand that exchange to enjoy Two Lane Blacktop, but it probably helps…

Labels: Film